Watch: The grind never stops for Virat Kohli as former India skipper flaunts ripped physique in latest video
Thu, 24 Nov 06:33 PM - SportsTak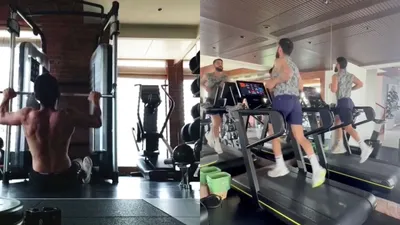 Former India captain and maverick batter, Virat Kohli's relentless pursuit of greatness is powered by his undeterred grit to continuously work on his body. Be it weight training on the field, sprints or cardio, the 33-year-old has evolved into one of the fittest athletes not just in cricket but across sports. The aforementioned claims are backed by a recently released report by the Board of Control for Cricket in India (BCCI) that threw light on Kohli's impeccable fitness.
Kohli has been the fittest Indian cricketer by a distance and a testimony to that is a BCCI report which revealed that at least 23 centrally-contracted Indian cricketers, except the former skipper, required a visit to NCA for rehabilitation in the 2021-22 season for some or other injury.
The 34-year-old superstar is currently enjoying a well-deserved break from cricket and will return to Team India for the Bangladesh tour. In order to ensure his top fitness, Kohli continues to grind even while being on a break.
In the latest video shared by the maverick batter on his Instagram account, Kohli can be seen working on back, which by the way, already looks ripped.
Watch the video here:
The champions batter scored 296 runs at an average of 98.66 along with smashing four half-centuries in six matches. His 82 not out against Pakistan at the MCG will indelibly be edged in the sport. He was the top run-getter at the 2022 multi-national event in Australia. Despite Kohli's incredible performances with the willow, the Men in Blue couldn't end their nine-year ICC trophy drought. Rohit Sharma's men suffered an embarrassing 10-wicket defeat in the semi-finals against England.
Related Articles