Jones lauds 'tremendous' England spirit following fightback against New Zealand
Sun, 20 Nov 04:33 PM - Opta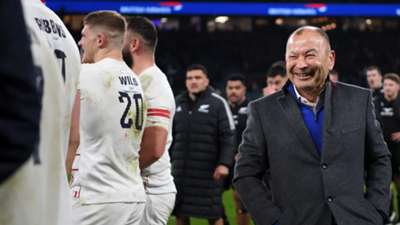 Eddie Jones hailed England's spirit after they overcame a "baptism of fire" to fight back from 19 points down in an incredible draw with New Zealand.
New Zealand looked destined to clinch a seventh consecutive victory when they entered the final 10 minutes with a comfortable 25-6 lead at Twickenham.
However, Beauden Barrett's late yellow card facilitated a remarkable collapse from the All Blacks, as England replacement Will Stuart crossed over twice either side of Freddie Steward in a dramatic finish, leaving Jones enthused.
"I thought we played with tremendous spirit in the first half. New Zealand were superb in the first half, and I can't recall New Zealand playing as well as they did," Jones said.
"[They were] aggressive, sharp around the ruck, attacking kicks. We just had to hang in there.
"We hung in there and hung in there, and then at the start of the second half, we were able to put some pressure back on them.
"In the first 20 minutes of the second half I thought we were the dominant team, but it didn't convert to any points.
"All of a sudden, someone blows some magic dust and the passes start to click, the lines are a bit sharper, and I thought our finishers came on and really improved the game we wanted to play. Sometimes that happens.
From 25-6 down with 10 minutes to go, to a 25-25 draw. Amazing spirit boys!!! #ENGvNZL pic.twitter.com/NpHdz9wodg

— England Rugby (@EnglandRugby) November 19, 2022
"It's a good moment for the team, there's a lot of guys out there playing their first Tests against New Zealand, and sometimes that can be a bit of a daunting experience, because they go after you.
"You've got to be able to handle that baptism of fire, and sometimes you don't. But you've got to learn from it, and the next time they play them, they'll be better."
Having overseen wins over Wales and Scotland in the All Blacks' previous two outings, New Zealand coach Ian Foster said the nature of England's revival meant the draw felt like a defeat.
"Seventy minutes in control, and then 10 minutes, a combination of a yellow card that fired them up, and they got a lot of quick ball against us. We got passive defensively for some reason," Foster said.
"At the end of the day, it's a draw we probably let slip. But there was still a lot of good rugby I was proud of.
"It's a team that's grown strong. We nailed two games and drew the third. It's not a loss, but it feels like that a little bit at the moment."
Related Articles