Smit laments Erasmus' behaviour for making South Africa 'easy to dislike'
Tue, 22 Nov 01:24 AM - Opta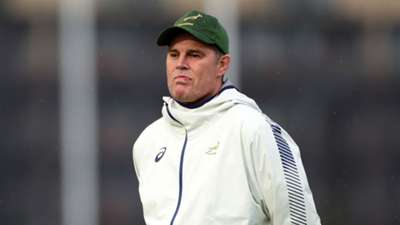 South Africa great John Smit believes Rassie Erasmus' approach has made the Springboks "easy to dislike" after the latter was banned for criticising match officials.
Springboks director of rugby Erasmus was handed a two-match ban by World Rugby after posting on Twitter about the officiating in a defeat to France on November 12.
It is not the first time the former South Africa head coach has come into trouble with the governing body, recently returning from a year-long matchday ban for his conduct against the British and Irish Lions.
Smit acknowledged many coaches will share similar frustrations but was unforgiving in his analysis of Erasmus, who was absent for last Saturday's victory over Italy and will miss the next Test against England.
The #Springboks know they can expect the unexpected from England on Saturday - more here: https://t.co/peNyaZq2t5 #StrongerTogether #StrongerForever pic.twitter.com/YGmbqUJiGE

— Springboks (@Springboks) November 21, 2022
"It's hard to defend him," South Africa's most-capped player Smit told the Rugby Union Daily post. "The way he has approached this is not right.
"Are you telling me Rassie is the only coach frustrated by a call that has gone the wrong way?
"Something has to be done. There has to be a line that has to be drawn, and he is making it difficult for his team. It's made us, as a rugby team, so easy to dislike."
South Africa face England on Saturday at Twickenham as the Proteas look to build on a 63-21 victory over Italy.
Related Articles