Big News: Manchester United announce split with Cristiano Ronaldo after Portuguese star's fiery interview
Tue, 22 Nov 11:26 PM - SportsTak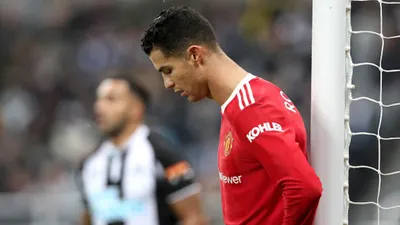 After the long-drawn furore between Manchester United and Cristiano Ronaldo, the club have announced in a statement that the Portuguese star's contract has been mutually terminated.
"Cristiano Ronaldo is to leave Manchester United by mutual agreement, with immediate effect. The club thanks him for his immense contribution across two spells at Old Trafford, scoring 145 goals in 346 appearances, and wishes him and his family well for the future. Everyone at Manchester United remains focused on continuing the team's progress under Erik ten Hag and working together to deliver success on the pitch," the small and drab release said on the club's official website.
Ronaldo returned to United during the 2021-22 season amidst massive fanfare after a successful spell with the club from 2003 to 2009, winning the Premier League and Champions League titles with the Red Devils.
After spells with Real Madrid and Juventus, Ronaldo moved back to England to join the red side of Manchester and finished as the highest goalscorer for his team in the 21-22 campaign. He scored 24 goals in all competitions, 18 of those goals being in the Premier League.
After being used as a glorified substitute under new head coach Erik Ten Hag, Ronaldo spoke out against the club management and hierarchy during an explosive interview with Piers Morgan.
In the interview, Ronaldo alleged some members of the higher-ups at Manchester United did not believe his reasoning for missing pre-season when his daughter was in the hospital. The five-time Ballon d'Or winner insisted Alex Ferguson convinced him to re-sign at Old Trafford but suggested 'zero progress' has been made since the legendary Scot left in 2013.
"I spoke with the director and the president of Man Utd and they kind of didn't believe that something was going wrong, which made me feel bad," the Portugal captain said.
Asked whether he felt he was being forced out of Old Trafford, Ronaldo told Piers Morgan uncensored: "Yes, not only by the coach but by another two or three guys around the club that I felt betrayed me.
"I shouldn't say that [they were trying to get rid of me], I don't know, but yes, I feel betrayed. I felt that some people didn't want me here not only this year but last year too."
Ten Hag has preferred to hand opportunities to the likes of Marcus Rashford, Anthony Martial and Anthony Elanga in United's attack this season, and has only started Ronaldo in four league games. Last month, Ten Hag said he opted against bringing Ronaldo on in a 6-3 defeat to rivals Manchester City "out of respect", while the Portugal forward was visibly irritated by the Dutchman's decision to substitute him against Newcastle United two weeks later.
Asked about his relationship with Ten Hag, Ronaldo added, "I don't have respect for him because he doesn't show respect for me. If you don't have respect for me, I'm never going to have respect for you."
Related Articles