Queiroz not getting tips from Ferguson ahead of England clash – 'I didn't receive any help from Scotland!'
Sun, 20 Nov 09:33 PM - Opta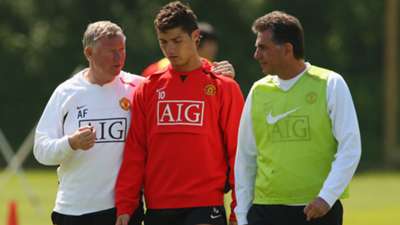 Iran coach Carlos Queiroz is not expecting any tips from his former Manchester United boss Alex Ferguson on how to beat an England team he rates as a genuine World Cup contender.
Queiroz enjoyed two spells as Ferguson's assistant at United between 2002 and 2008, aiding the Scotsman as the Red Devils won six trophies over that period, including the 2007-08 Champions League and three Premier League crowns.
Although Queiroz resumed his own managerial career in 2008 as he took over the Portuguese national team for two years, he and Ferguson have remained friends.
On Monday, Queiroz's Iran side will go up against England in their Group B opener, and the former Real Madrid head coach will be taking full credit if he can mastermind a surprise win, with Ferguson seemingly not offering up any tips on how to beat the Three Lions.
"I confess I didn't receive any help from Scotland," Queiroz said with a chuckle on Sunday.
"Of course, we talk frequently as friends, but you can relax, Scotland this time is not supporting anything against England."
Queiroz seemed particularly familiar with Gareth Southgate's side and spoke with great admiration about them.
He reflected on his time working with United in England and championed the attitude and spirit of English players, though Queiroz believes the generation of 2022 is the best since the 1966 vintage, when the Three Lions last won the World Cup.
November 20, 2022
"I worked with English players, I met them. They're really brilliant, great and fantastic attitude all the time," he said. "They love to play the game with rhythm and intensity, which is part of the culture of English football.
"We know the English culture isn't like Spanish or Portugal, obsessed by ball possession, but then we know in a country like England, teams like Leicester City are able to win a championship with more opportunities without so much of the ball possession, like Manchester City and the other clubs. Football is this magic.
"The English players have my heart because they are a great example, they are always ready to play, always training with intensity. The way they play the game with a direct mind to put the ball in the net with full intensity, it's amazing.
"If I choose one kind of players to go to war, for sure I would not ignore the mentality and attitude of English players. This new generation Southgate is bringing in the national team, in my opinion I'd say it's the most talented…most competitive English national team since 1966, which I had the opportunity to see.
"This team is very functional, very practical, realistic. I worked with the generation of Rio [Ferdinand], not in the national team, and [Paul] Scholes, David Beckham, fantastic players all those guys, but this national team is really different because they have a realistic approach to every game, which makes them very dangerous.
"What can I say about England that people don't already know. They're one of the top national teams. Taking into consideration the last result and work they're doing, they're serious candidates to be in the final, one of the medal positions, even a candidate to be world champions."
Related Articles